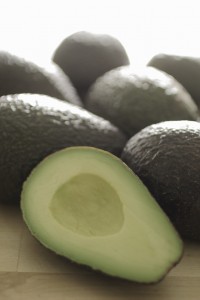 Avocados are a wonderful food for dry, oily and problem skin alike. The monounsaturated oils they are composed of are the same as those in olive oil, supporting healthy moisture levels in the skin without fostering excess sebum production.
Since they are high in healthy oils, avocados are also a rich source of vitamin E. This antioxidant vitamin protects cells from damaging chemicals and UV radiation.
Avocados are rich in potassium, a nutrient that supports cellular hydration. Impressively, a hass avocado contains twice the amount of potassium that exists in the average banana, without the sugars that can feed the micro-organisms that promote breakouts. In addition, avocados are high in fibre, supporting balanced blood sugar levels and the timely elimination of wastes through the colon. And yes, for these reasons they are permitted in my Clear Skin Detox Program!
Here's a recipe that pairs avocados with other skin-supportive foods and can be enjoyed as a nutritious, satisfying snack:
Avocado Salad with Tomatoes
3 hass avocados
¾ cup tomatoes, your choice of type (plum, cherry, grape, etc.), chopped
½ Videlia (sweet) onion, chopped
juice of ½ lemon
¼ tsp sea salt
black pepper to taste
½ cup cilantro leaves, minced
1 – 2 jalapeno peppers, seeded and minced (optional, for extra kick)
How do you like your avocados?