Living life dairy-free or sugar-free? Yes, you can enjoy the health benefits of yogurt without actually eating it. When popular yogurts can have as much sugar as a small can of cola, looking elsewhere for your pro-biotics is a good idea.
Here are four non-dairy sources of active pro-biotics that don't come stacked with a ton of sugar: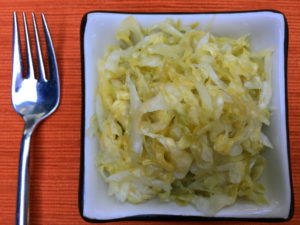 Sauerkraut: Not to be confused with coleslaw, sauerkraut is a European-style fermented cabbage side dish or condiment that may be cooked or eaten raw. Note: the real thing has NO VINEGAR added to it. The sourness comes from the lactic acid created by the bacteria that soften the cabbage to a mildly-crunchy texture. Try it cold on top of a green salad or baked potato. Look for it in the refrigerated section of your grocery or health food store.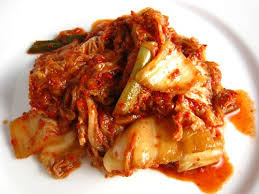 Kimchi: This is a Korean style of fermented nappa cabbage. I was told by a Korean woman that there are over 300 different ways to make kimchi! In contrast to sauerkraut, kimchi usually has garlic and often, sriracha as key ingredients. Find it in the fridge of better stocked health food stores and use it just like you would sauerkraut.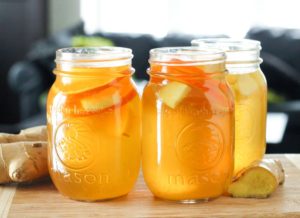 Kombucha: This is a fermented green tea beverage that offers pro-biotic cultures as well as anti-oxidant benefits. Properly produced kombucha is mildly effervescent, smells reminiscent of beer and should be enjoyed chilled. However, beware: there are some varieties that are sweetened. Drink it any time.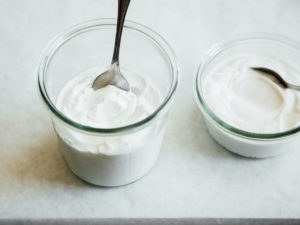 Coconut yogurt: at first glance, it looks like ordinary yogurt. Simply by adding living bacterial cultures to coconut milk produces this creamy snack. It tends to be a lot less sour than dairy yogurt, so if sourness is not your thing, this may be your best choice of pro-biotic food! Add a few berries and you are all set.
No matter which pro-biotic food you choose to try, each one will offer up different species of beneficial bacteria. To get the most from pro-biotic foods, eat them regularly, rotate them, and keep them cool (refrigerated). Enjoy!