Yes, it is wonderful that many Italian restaurants in Ottawa are now offering gluten-free dining options–but for those looking for something other than pasta or pizza, check out my personal 5 recommendations for other types of cuisine, below.
Please note: I am not a strict gluten-free diner, but many of my nutritional consulting clients are. If you are allergic to gluten please be aware there is always a risk of gluten contamination when you eat food you did not prepare yourself.  For best results, inform your server, checking condiments such as sauces and gravies before ordering.
In no particular order, here they are:
1. Lapointe Seafood Grill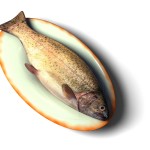 Locations: Kanata, Bells Corners, York Street, Byward Market, Orleans
This spring, locally-owned fishmonger Lapointe's added a crunchy, gluten-free version of their famous fish and chips to their menu. The extra $2 is worth it. Choose from fresh cod, haddock, pickerel or halibut. It's served with house coleslaw and fries, or substitute salad for a small additional charge. There are many other options as most menu items are not battered.
2. Perfection Satisfaction Promise
L
ocation: Sandy Hill (downtown Ottawa)
Vegetarian and gluten-free can be a challenging combination when meat substitutes often contain wheat gluten in place of ground meat. Formerly known as The Painted Potato, this casual and spiritual little venue bases its entrees on no other than the humble potato. It's the scrumption toppings that sends me back for more. I recommend the Indian Dhal, the Pesto and Sour Cream and for something really different, the Avacatofu topping.  Please check with staff about the soup of the day. It's always delicious and hearty, but may not always be gluten-free.  Note: Popular with University of Ottawa students.
3. Singha Thai
Location: Merivale Road, Ottawa
This is my favourite restaurant because of its consistency of flavours, service and ambience—the latter which enables you to actually carry on a conversation at regular talking volume. Owned and cooked by Thai folks and served with rice, the curries are extremely flavourful; the mango salad and salad rolls are also must-have appetizers. Another bonus is that unlike pho noodle houses and the majority of Chinese eateries, no MSG is used. Believe me, no flavour enhancement is required as the food speaks loudly on its own!  Vegetarians will be happy to hear that any dish on the menu may be prepared with tofu in place of meat.
Farther afield but worth the drive:
4. Mill Street Crepe Company
Location: Almonte, ON (15 minutes southwest of The Canadian Tire Centre–formerly Scotiabank Place)
I recently and finally made it out to Almonte to check out these gourmet meal crepes. Any crepe entree on the menu can be made gluten-free without sacrificing the contents. I had the vegetarian option: the marinated vegetable and goat cheese crepe. It was delicious. Tip: Reserve by phone.  Also, plan to make an afternoon of it to see the pretty shops of Main street and environs such as the Riverwalk.
This one is seasonal:
5. The Baja Burger Shack
613 614 2233 or kzalba@magma.ca for info
Location: 102 Greenview Ave, Britannia, Ottawa
Hours: June through August: 11 a.m. through 9 p.m. (or until dark)
Notes: This venue offers outdoor, summertime dining only. Cash only. Shade is limited.
This very casual, tiki-themed patio has been voted "The Best Burger in Ottawa" by locals. Open for its 4th season, Baja offers your choice of patty on a gluten-free bun if you request it. While I have not eaten their popular beef patty I have enjoyed their black bean burger, a vegan option.  Both patties are pre-seasoned, homemade and topped with your choice of fixings. While service can be slow, most agree it is worth the wait!
What are YOUR favourite restaurants that serve gluten-free options? Leave your comment here: